This fantastic Top Ten Tuesday came from The Perpetual Page-Turner, a great book blog indeed. I like a good list and this one seemed like something I definitely needed to do! YA is kind of my obsession, of course, and if there's any goal I have in life, it's to bring my obsessions to other people!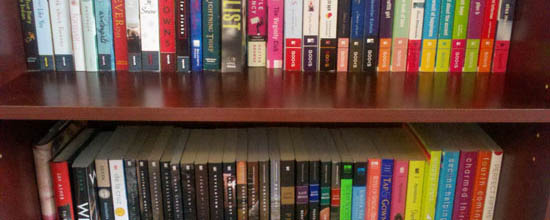 I picked this picture because it included my favorite YA series!
9.
Nightshade by Andrea Cremer.
It took me a bit to get into, but I thought this book was kind of like the perfect cross between the
Twilight
and
Hunger Games
novels--paranormal romance in a dystopian society. I ended up really into it and I am desperate to get my hands on the next one,
Wolfsbane
.
8.
Go Ask Alice by Anonymous.
This book has almost everything that consists of the YA genre (except, you know, the supernatural stuff). Drugs, sex, depression, self-mutilation, utter tragedy. I'm not making light of any of it, I love that YA is one of the only genres that deals with these taboo issues in as realistic and encouraging way as possible. This true account of one teen's experience with all of it will leave you... with a new respect for YA and for the other young adults in your life.
7.
The Luxe series by Anna Godbersen.
These are kind of also in the
Gossip Girl
territory but HISTORICAL. Maybe not 'historical' per se, but they take place in early 20th century and fantastically addictive.
5.
How To Walk in High Heels by Camilla Morton.
I completely helpless in all things hair, make-up, and fashion. However, Morton's book is a little more than that--it literally is 'the girl's guide to everything.' You'll find out how to grow a plant, keep your clothes ironed, figure out that new-fangled technological gadget or ask the cute engineering major for help, and, of course, walk in high heels. Not necessarily YA, but the 'girl's guide' may give it that connotation and frankly, even some older women I know could use it.
4.
Miss Peregrine's Home for Peculiar Children by Ransom Riggs.
First of all, the name of the author alone should be enough. But if you take a look at this book in real life, it's so completely fascinating and intriguing. I actually spent real money on it and bought it at Barnes & Noble instead of waiting for it to be on sale (you know that means it was a must have!). I love the intertwining of the old photographs and the novel. It's amazing. Don't understand what I'm talking about? Go read it!!
3.
The Book Thief by Markus Zusak.
One of the most beautiful books ever written. This book transcends genres and I think it gets a bad rap sitting next to all the vampire books on the YA shelves these days, but just pick it up. You'll be transformed.
2.
The Hunger Games by Suzanne Collins.
I'm just recommending the first one because obviously once you read the first one, you're going to read all of them. Recently I had a dream where my brother and I were in the Hunger Games and it made me start thinking about the book all over again, remembering things I had forgotten during my super quick read of it. It made me want to read it again. You'll want to read it again. So just read it.
1.
Sloppy Firsts series by Megan McCafferty
. OK, I think by now we can assume this will be included in almost every single one of my Top Ten Lists (except ones like "Books I Would Let Be Destroyed By A Tornado If One Ever Happened In California"). I think I would mostly recommend this to people closest to me because I feel like these books are so personal. I have an almost obsessive connection to the lovely J. Darling and for someone to read them because I asked them to would mean a lot to me. And I know that that person is basically just my best friend. But everyone else really should read them.
P.S. Notice how I didn't recommend Twilight?